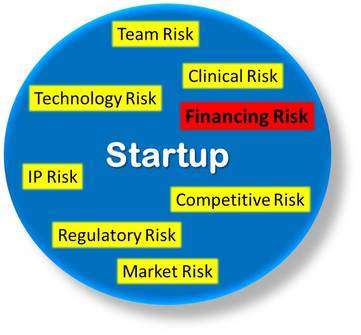 Startups are risky. Statistics on failure indicate most industries only have around 50% of their new companies operating after 4 years (
http://www.statisticbrain.com/startup-failure-by-industry
). Others suggest 3/4th of Venture backed companies go out of business (
https://www.wsj.com/articles/SB10000872396390443720204578004980476429190
). The latter does not account for those companies failing to get Venture backing, which is easily a majority of Medical Device and Biotech startups. And therein lies one of the least understood risks of startups, the risk they will not access capital at some point along the path to profitability, or the terms of that capital will be so onerous that early investors will be wiped out.
I recently had a rude reminder of how a successful exit for a Medical Device company can still wipe out early investors. Over several years, as part of a well-known and experienced Angel group, I made three investments in a Medical Device company. They produced a product, brought it to market and gained market traction. Lawsuits with competitors consumed more capital than planned and generated uncertainties which created difficulties with fundraising. Though the company ultimately prevailed, the circumstances in which the last capital was raised resulted in a large venture debt and a 2x preference for the last equity investors. So despite a substantial exit, all the net proceeds went to the last investors in, and early investors as well as common shareholders (founders, executives) were left with nothing. Millions of dollars wiped out while others got a 200% return. While this does not seem fair, this is not uncommon and is one of the key concerns of early investors and Angel groups. First money in often gets buried if things don't go perfectly along the way. Even a "success" can bust early investors.
Most entrepreneurs recognize that early equity investors will assign a low valuation to the initial startup enterprise. While opportunities may be large, they require success in the technology and product(s), perfect execution by the team, and frequently clinical and regulatory success. The products must have protectable intellectual property and not infringe on IP for which the company does not have a license. The product(s) must fit clinical practice in a way that promotes adoption and must be superior to other solutions available at the time of launch. The market and uptake must support a significant return on the capital required to achieve product commercialization. All these risk hurdles must be cleared in order for investors to recoup their investment and earn a return. All these contribute to the discount in valuation investors require for early stage startups.
​
In addition, the ability of a company to obtain additional capital at various "value inflection points" throughout the company's product development and commercialization cycle is an additional risk. Circumstances related to execution, that are within the company's control, as well as market circumstances outside the company's control, both impact the availability and terms of capital at future points of need. The obstacles to raising capital during development are underappreciated. There is often a time pressure, where opportunities will be lost or diminished if capital is not deployed to meet them in a timely fashion. Interruption of funds for operations can compromise contractors and teams, resulting in cascading delays. The pressure to accept onerous deal terms can be substantial. If there have been hiccups in execution, funds may not be available at all. In either of these circumstances, early investors suffer. That's why they demand a valuation that will reward them handsomely those few times when everything goes right.
The good news for entrepreneurs is this can be mitigated to some extent by having a very clear and well thought out funding plan that coincides closely with key development milestones but provides sufficient time for data to drive funding decisions and closing on new capital. There is a reason that you hear many companies talking about Bridge financing; they had delays or didn't plan enough time from milestones to closing on capital, to keep operations going. Doing a good job of laying out the financing strategy and milestones over the life of the company will improve the confidence of early investors and mitigate some of your financing risk.